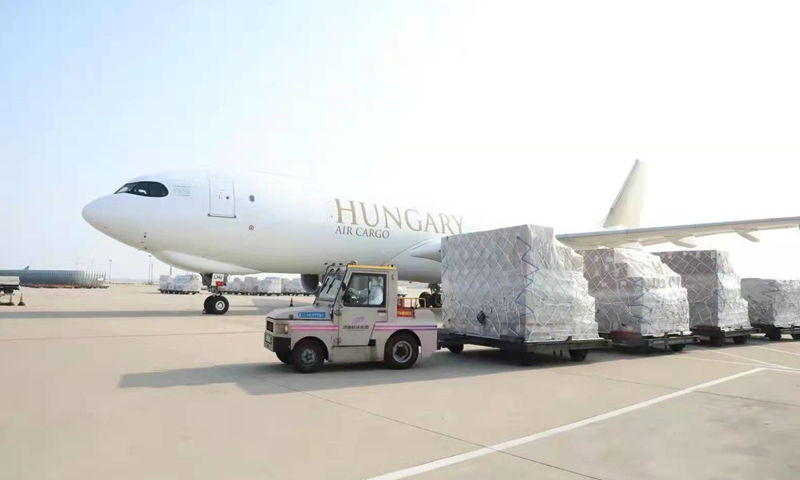 Hungarian government-owned all-cargo air carrier launches its first service with China amid booming trade ties
Hungary's government-owned all-cargo air carrier launched its first commercial transportation service with China over the weekend amid booming trade ties, marking another milestone of the growing logistic support under closer bilateral trade ties between the two countries.
The Hungarian Ambassador to China, Pesti Máté and the Chairman of the Henan Airport Group, Kang Shengzhen, attended Sunday's ceremonial event before the plane took off from China to Hungary, loaded with goods including Chinese-made auto parts, epidemic prevention kits, e-commerce products and other materials, to support pandemic prevention and control, as well as business recovery of the landlocked country in Central Europe.

This came just a day after the all-cargo air carrier, owned by the Ministry of Foreign Affairs and Trade of Hungary, arrived in Zhengzhou after flying from Budapest on Saturday. The Chinese logistic company Universal Translink was responsible for its operation.

"This successful and unique cooperation shows that a pragmatic, mutually beneficial and win-win partnership is the real driving force behind the economic cooperation between China and Hungary," the Hungarian ambassador said at the event, noting that the new cargo route will further promote the interconnection between China and Hungary, and continuously grow bilateral trade, according to media reports.

The newly opened flights are fully aligned with the strategy of the Hungarian government to develop into a central European freight, logistics and distribution center. They will also further strengthen the role of Zhengzhou and Budapest as important freight terminals in China and Central and Eastern Europe, Máté told media.

For pandemic prevention and control purposes, Hungary has imported a considerable amount of medical supplies from China to help fight the virus.

According to trade data, up to now, 360 cargo flights between Zhengzhou and Budapest have been completed, with a volume of more than 20,000 tons.

So far, a total of 185 all-cargo flights with masks, ventilators, medicines, syringes, patient monitors and various personal protective equipment have arrived in Hungary from several major cities in China.

With the opening of the route by the Hungarian government cargo airline, the round-trip transportation capacity will increase from four to eight times a week moving 1,200 tons of cargo per week between Budapest and Zhengzhou. The airports in the two cities have become major air cargo hubs between China and Central and Eastern Europe.