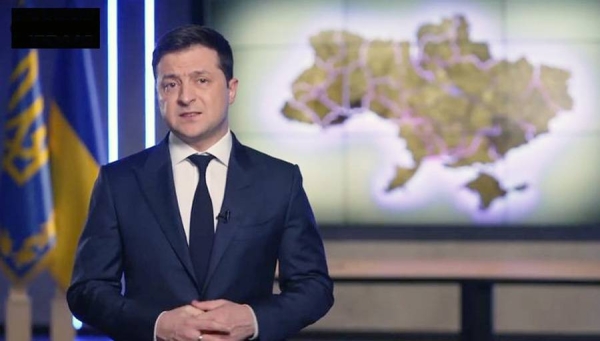 Zelenskyy ready to meet with Putin 'to end the war'
Russian forces have now shifted their focus to the offensive in the eastern Donbas region of Ukraine. Heavy shelling and fighting have continued in the east as Russia's army attempts to establish control over the region.
As the war rages, Ukrainian President Volodymyr Zelenskyy told the journalist gathered at a Kiev metro station on Saturday that he would meet with Vladimir Putin if it meant the end of the war.

However, Zelenskyy also emphasized that all negotiations would be over if Russian troops end up killing the besieged Ukrainian soldiers in Mariupol.

Russian shelling of urban areas in the east of Ukraine continued on Saturday, with reports of at least two civilians dead in the eastern city of Popasna and another two in the Kharkiv region.

Moldova summoned the Russian ambassador in protest at a Russian general's comments that Moscow wants to capture southern Ukraine to gain access to a breakaway Moldovan region.

UN accuses Russia of actions that 'could amount to war crimes,' claiming its armed forces have 'indiscriminately bombarded and shelled populated areas'.

Ukrainian official says fighting has not stopped at the besieged Azovstal steel mill where the country's fighters are holding out. Putin previously told Russian forces not to storm the industrial site and instead seal it off.

At least 594 children have been killed or injured so far due to war in Ukraine, the country's parliament says.

Ukraine's president says he will meet Sunday in Kiev with the US Secretary of State Antony Blinken and Secretary of Defense Lloyd Austin.

Zelenskyy spoke of the plans Saturday during a press conference. He did not immediately share more details. The White House declined to comment on Saturday about the visit from Blinken and Austin.

Zelenskyy again called for a meeting with his Russian counterpart Vladimir Putin "to end the war".

"I think that he who started this war will be able to end it," Zelenskyy told a news conference inside a downtown Kiev metro station, repeating that "he was not afraid" to meet with Putin if it would lead to a peace deal between Russia and Ukraine.

However, Zelenskyy was clear in his conviction that all negotiations would be off if Russian troops killed or otherwise harmed the besieged Ukrainian soldiers in Mariupol.

Also, hundreds of protesters belonging to Latvia's sizable Russian-speaking community have taken part in a large-scale demonstration in the Baltic nation's capital, Riga, condemning the Kremlin regime and Moscow's aggression on Ukraine.

Participants of Saturday's rally entitled "The Russian Voice Against War" waved Ukrainian flags and posters with inscriptions such as "Stop the genocide in Ukraine" and "Complete Russian gas and oil embargo" at the central Freedom Monument, Latvia's public broadcaster LSM reported.

Organizers said the protest aimed to demonstrate that many of Latvia's Russian speakers are not aligned with Vladimir Putin. In a statement, they called Moscow's actions "criminal".

Ethnic Russians make up around 25% of the 1.9 million population in Latvia, a former Soviet republic. Adding other national groups, like Belarusians and Ukrainians, the share of Russian speakers is about 30% of all citizens.

Earlier this week, Latvia's Parliament unanimously declared the killings of civilians in areas of Ukraine occupied by Russian forces, including Bucha, Irpin and Mariupol, to be acts of genocide.

A top Ukrainian official has announced a countrywide curfew for the night of the Orthodox Easter. In other regions, including Kiev, Odesa, Chernihiv and Lviv, the curfew will run from 11 p.m. Saturday until 5 a.m. Sunday.

Ukrainian intelligence services stated earlier on Saturday that intercepted Russian troops communications raised the alarm that Russian attacks could escalate during Easter weekend, celebrated by Eastern Orthodox faithful on 24 April.

Russian soldiers were also reported to have been seen writing "Christ has risen" on shells, a claim that could not be independently confirmed.

An adviser to Ukraine's president said five people including a three-month-old infant were killed in a missile attack in the Black Sea port city of Odesa.

Ukraine presidential chief of staff, Andriy Yermak, provided the information Saturday. An adviser to Ukraine's interior minister earlier said Russian forces fired at least six cruise missiles at the city.

Anton Gerashchenko said in a Telegram post on Saturday that Ukrainian forces were able to shoot down several missiles, but at least one landed and exploded.

"Residents of the city heard explosions in different areas," Gerashchenko wrote. "Residential buildings were hit."

An adviser to Ukraine's presidential office said Russian forces are attacking a steel plant that is the last defense stronghold of Ukrainian forces in the strategic port city of Mariupol.

Oleksiy Arestovich, an adviser to the head of Ukraine's presidential office, said during a briefing on Saturday that the Russian forces have resumed airstrikes on Azovstal and were trying to storm it.

"The enemy is trying to completely suppress resistance of the defenders of Mariupol in the area of Azovstal," Arestovich said.

Arestovich's statement came two days after Russian Defense Minister Sergei Shoigu reported to President Vladimir Putin that the whole of Mariupol, with the exception of Azovstal, had been "liberated" by the Russians.

Putin ordered the Russian military not to storm the plant and instead to block it off in an apparent attempt to stifle the remaining pocket of resistance there.

Temporary flight restrictions at 11 Russian airports have been extended until May 1, the Federal Air Transport Agency stated on Saturday.

The agency also told the domestic air carriers to continue rerouting their flights using "alternative routes" to Moscow and Sochi, among others.

Civilian flights to the airports of the likes of Belgorod, Voronezh and Rostov-on-Don — all near the Ukrainian border — have been restricted since the beginning of the Russian invasion on Feb. 24.

With a few exceptions, European countries have closed their air space to Russian-owned or operated aircraft as part of sanctions triggered by the Kremlin's aggression against Ukraine.