Finland swaps partying Sanna Marin for prudent Petteri Orpo as economic fears grow.
Finns have played it safe with a post-pandemic recession looming and their giant eastern neighbor Russia waging a brutal war in Ukraine.

In center-right leader Petteri Orpo, the Finnish electorate has backed someone with a trusted track record in party politics that stretches back decades.

Orpo convinced voters that the Finnish economy was in trouble and that he — rather than his free-spirited and freer-spending rival Sanna Marin — was the steady hand Finland needs.

The shift will mark a radical change in tone for Finland and for the wider European political scene. Marin, a popular personality on the left of EU politics, found herself in hot water last year after a video emerged of her dancing exuberantly at a party with friends. Yet it was her government's reputation on economic policy that cost her.

In Sunday's election, Orpo's get-it-done persona won out. He played on deeply rooted (if mundane) Finnish fears about rising government debt and offered concrete (if workaday) solutions, such as cuts to public services.

"We are starting government negotiations with the economy as the core issue," Orpo said as the vote count neared its end.

Orpo, 53, is a figure whose career has been largely spent in the shadow of larger personalities, from former Prime Minister Alexander Stubb to his massively popular National Coalition Party colleague President Sauli Niinistö. Not to mention outgoing premier, Marin.

Orpo, the center-right NCP leader, has steadily risen through the ranks in key supporting ministerial roles to leader of the main opposition party.

With 14,000 followers, Orpo's Instagram account lacks the flair of Marin's — follower count 1 million — but does give a sense of how he wants to present himself: An election-day post projects an everyman image of him out with his dogs in the snow.

Another recent entry shows him in the 1990s as a student lawmaker, with the seeming subtext that he has been a lifelong public servant.

While critics have described his man-of-the-people style as bland, others suggest he is an effective operator with a no-nonsense approach.

The coalition negotiations will offer Orpo an early and high-stakes opportunity to show he can conduct politics at the highest level. If he is able to pull off a deal satisfying both the conservative and liberal wings of the NCP, that would be a solid early achievement, observers say.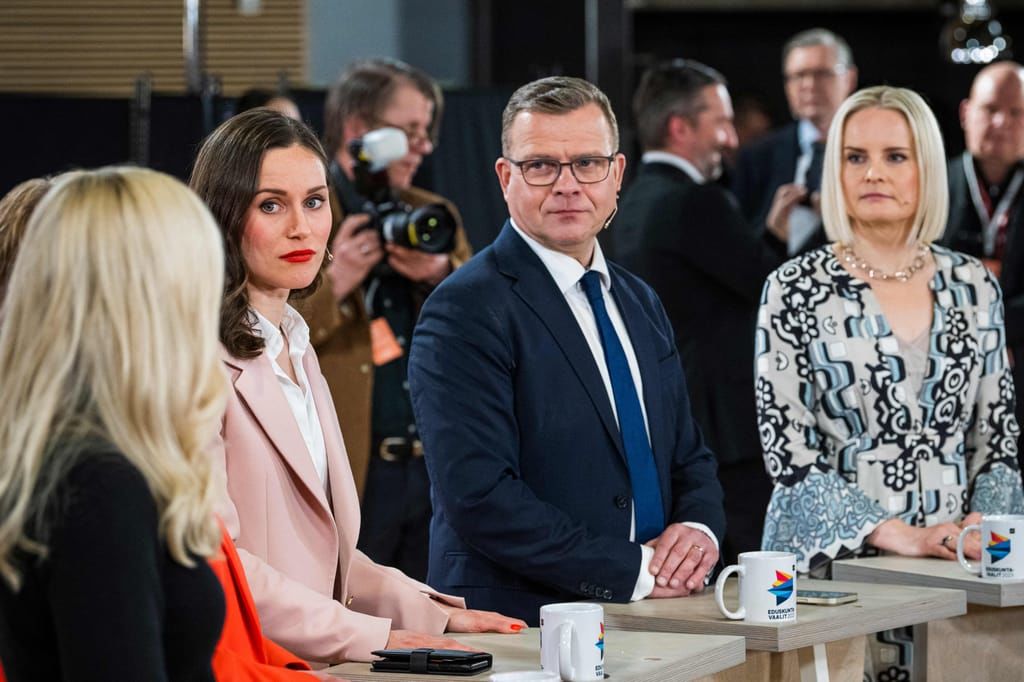 The Finns Party chair Riikka Purra, National Coalition Party chair Petteri Orpo and Social Democratic Party SDP chair and Finnish Prime Minister Sanna Marin

Teivo Teivainen, a political scientist at the University of Helsinki, said he believes Orpo will be under pressure from within his own party to try and strike a deal with the anti-immigration Finns Party first rather than making early overtures to the Social Democrats.

"If he ends up forming a government with the Social Democrats, it will help him if he can show he tried hard to form a right-wing coalition first," Teivainen said.

Gradual rise through the ranks

Orpo was born in Köyliö in Finland's southwest and has a social science master's degree from nearby Turku University, according to the CV he has posted to the parliament's website. He is married with two children, and profiles of him suggest his hobbies include cooking and fishing.

His work with the National Coalition Party stretches back to the 1990s, and he later became minister of agriculture under former NCP Prime Minister Stubb before serving as both minister of interior and finance under Center Party premier Juha Sipilä.

Orpo challenged Stubb for the leadership of the NCP in 2016 after accusing his boss of allowing a slump in voter support. Orpo said he could rebuild unity in the party and take it back to power, and handily beat Stubb in a party vote.

"We can be the country's biggest party, we can do a lot better," he told supporters after being elected party leader in 2016.

After a narrow election defeat in 2019, Orpo elected to take his party into opposition rather than enter a coalition with the Social Democrats. He set about rebuilding its standing as a traditional center-right economic alternative that was willing to cut public spending and limit tax increases.

Ahead of the election on Sunday, he sought to play on deeply held Finnish fears about public debt, portraying Marin and her party as a threat to the country's fiscal health.

As the NCP's lead in the polls eroded over recent months, questions were raised about whether Orpo's somewhat fear-driven campaign could really outgun Marin's star power along with her calls to invest in growth and jobs.

But as Sunday evening wore on, Orpo's strategy would ultimately be vindicated. In the night's most dramatic moment, as public broadcaster Yle revealed its closely watched forecast of the final outcome, Orpo, Marin and Finns Party leader Riikka Purra all followed along nervously.

When Yle's forecast gave NCP 48 seats, the relief on Orpo's face was visible — as Marin was forced to contemplate defeat for the first time.

Orpo's focus on cautious fiscal policy appeared to have paid off, and by the time he addressed the crowds at the end of the night, his usual restrained demeanor had been replaced by one of jubilation.

His message about returning fiscal order to Finland had resonated with his fellow citizens, he said, and his party was now — as he had vowed it could be in 2016 — the largest in the country.

"This is really a big deal," he said.