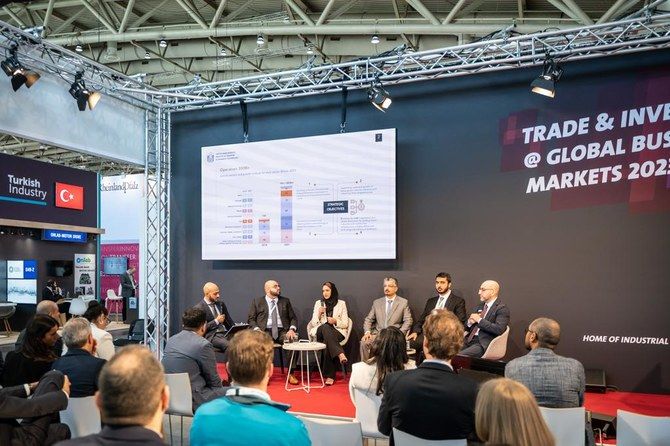 UAE, Germany explore advancing industrial collaboration
A UAE delegation met representatives from almost 30 German companies on Tuesday to advance collaboration and build on cooperative efforts to promote sustainable industrial development, decarbonization, and energy security.
Representatives from the Abu Dhabi Department of Economic Development, the ADNOC Group, Abu Dhabi Investment Office, KEZAD Group, and Dubai Industrial City attended the roundtable discussion at Hannover Messe, one of the world's largest industrial trade fairs.

The event, which was presided over by Omar Al-Suwaidi, undersecretary of the Ministry of Industry and Advanced Technology, introduced German companies to the UAE's unique value offer and strategy for long-term industrial growth. It also highlighted the Make it in the Emirates initiative, which encourages foreign manufacturers, investors, and inventors to make use of the country's competitive advantages.

Al-Suwaidi said: "The UAE and Germany are making steady progress in vital fields such as hydrogen fuel, which will be critical to industries of the future.

"The partnerships between our government institutions and national enterprises are leading to pioneering innovation in sectors such as green steel.

"By combining our strengths, talents and resources, the UAE and Germany can pave the way for greater energy security and more sustainable industrial development in our respective regions.

"Our two countries are aligned on creating solutions to industry's global challenges, and there is significant appetite for collaboration among our industrial communities.

"As a ministry we are committed to supporting industrial companies in the UAE to work alongside international counterparts to achieve business growth and adopt best practices.

"In line with our national industrial strategy, we will continue to explore and facilitate collaborations between UAE-based companies and our international partners to attract investment and support the growth of green industries and renewable energy supplies."

The UAE delegation also took part in a panel discussion on the country's efforts to accelerate the transition to greener and more sustainable industries. It emphasized competitive advantages and enablers such as green financing, certified green energy supply, robust regulatory infrastructure, and market access via an increasing number of free trade agreements.

The MoIAT used the Hannover Messe to demonstrate how the UAE's industrial decarbonization activities and the Net Zero 2050 Strategic Initiative offer a variety of investment opportunities. These focus on the UAE's development of innovative technologies, future green industries, and climate change mitigation technologies such as carbon capture.