Anti-government protests, political rhetoric and institutional instability appeared to be the main causes of digital rights violations in Southeast Europe over the past fortnight.
The end of November and beginning of December saw digital rights violations in the wake of anti-government environmental protests in Serbia, and amid a tense political situation in Bosnia and Herzegovina, caused by secessionist threats of the ruling party in Bosnia's Serb-dominated entity, Republika Srpska.

Pro-government media in Hungary continued to use rhetoric supporting the ruling Fidesz party with the aim of influencing Hungarians online, while the fallout from a high-profile case at the European Court of Human Rights spilled over into the online environment in Romania.

Anti-government protest triggers breaches in Serbia

Anti-government demonstrations against two new draft laws that environmentalists claim will allow foreign companies to pollute the country were followed by several digital rights violations in Serbia.

Activists took to the streets to protest over planned investment projects they said would pollute both land and water, after the government offered mining rights to mining companies including China's Zijin and Rio Tinto.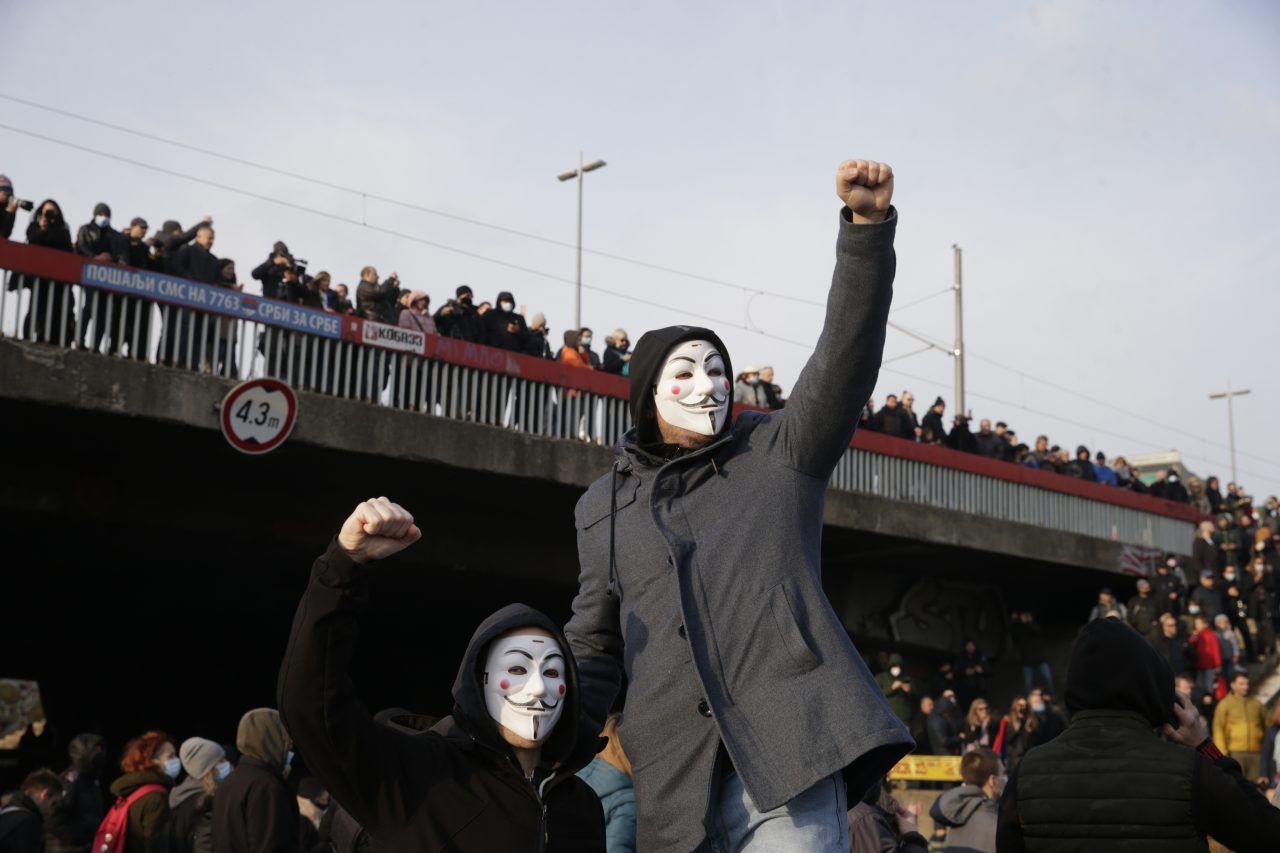 Protesters block the E-75 highway in Belgrade, Serbia, 04 December 2021.


In one case, recorded on December 3, a day before protests and roadblocks across Serbia announced for December 4, several threats were sent to N1 TV staff and their families via email and social media.

N1 informed the competent institutions in Serbia and the Permanent Working Group for the safety of journalists of the threats.

Another case occurred on December 2 related to a screenshot of an alleged tweet by sociologist Vesna Pešić about violence during the recent roadblock protests in Serbia, published in several tabloids.

Pešic later said she never wrote the disputed tweet and the fact-checking portal Raskrikavanje could not find any trace of it – so it may be assumed that it was a screenshot made by a site that generates fake tweets, which look authentic.

A further case demonstrated how seriously Serbian journalists are attacked in the online environment.

On December 1, the Crime and Corruption Reporting Network, KRIK, a Serbian investigative media outlet, received a death threat on Twitter. Editorial members believe the threat was linked to an article it published on President Aleksandar Vučić's son.

Political tensions impact on Bosnia's digital environment

In Bosnia and Herzegovina, ongoing political tensions that threaten to unbalance the country prompted several digital violations.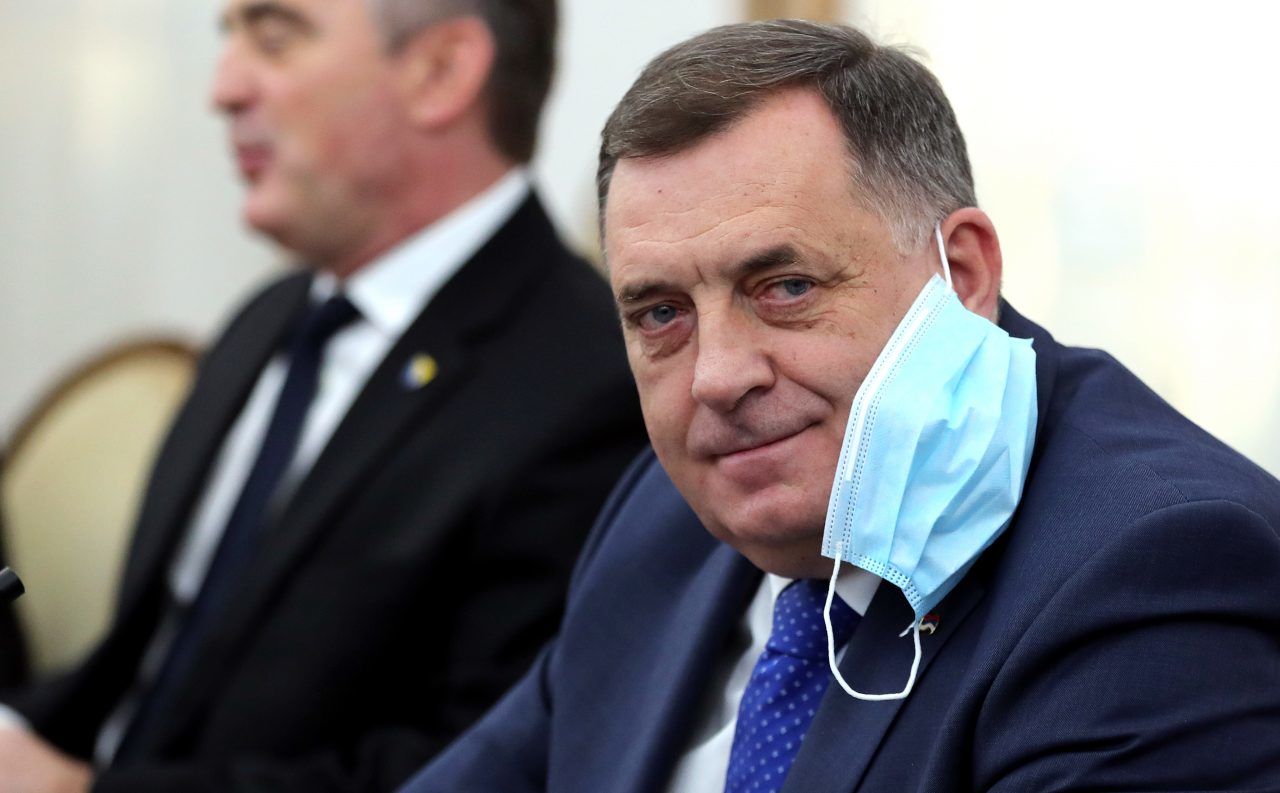 Member of the Presidency of Bosnia and Herzegovina Milorad Dodik, during their meeting with the Deputy Assistant US Secretary of State Gabriel Escobar (not on pictured), in Sarajevo, Bosnia and Herzegovina, 08 December 2021.

Since the Serbian member of Bosnia's tripartite presidency and leader of the Alliance of Independent Social Democrat Party, SNSD – СНСД, Milorad Dodik, on October 8 threatened to restore the "original" 1995 Dayton peace deal by withdrawing Bosnian Serbs from key institutions of the country, including the armed forces, judicial bodies and tax administration, tensions have increased.

On December 10, Republika Srpska, Bosnia's Serb-dominated entity, took legislative steps to initiate this withdrawal from Bosnia's state-level institutions.

Denis Šulić, vice president of the National Assembly of Republika Srpska, meanwhile published several threatening messages he had received through social networks on December 11.

Online users targeted the politician after he chaired a special session on "the transfer of competencies from the level of BiH to the RS entity", which according to Šulić was "a historic session of the National Assembly because it opens the process of strengthening the RS, for which we have been fighting for years". Some comments threatened the politician with death, such as: "You will be massacred", "Bastards", and: "You should kill yourself".

A video with pornographic content was shared on December 10 on various social networks, showing a representative of the Party of Democratic Progress, PSP, in the city of Banja Luka's assembly, Ivan Begić.

The video was shared with many journalists and public figures, as well as private groups on Viber, Messenger and other applications. The recording was not published by any print news outlet. He claimed that he was told to pay half a million Bosnian marks (around 260 euros) for the disputed video, and that his health has deteriorated due to the pressure and threats he now faces. He stated that as a reason to leave politics altogether.

In Hungary, pro-Fidesz rhetoric swamps digital environment

The pro-government media in Hungary remained busy spreading pro-Fidesz political rhetoric, including attacks on the LGBT+ community, which remain common within the political arena, with other cases of disinformation aimed at discrediting government opponents.

COVID-19 disinformation cases also remained widespread in the Hungarian digital landscape, while the ruling Fidesz party's rhetoric aimed to convince the public of its successful and effective post-pandemic management.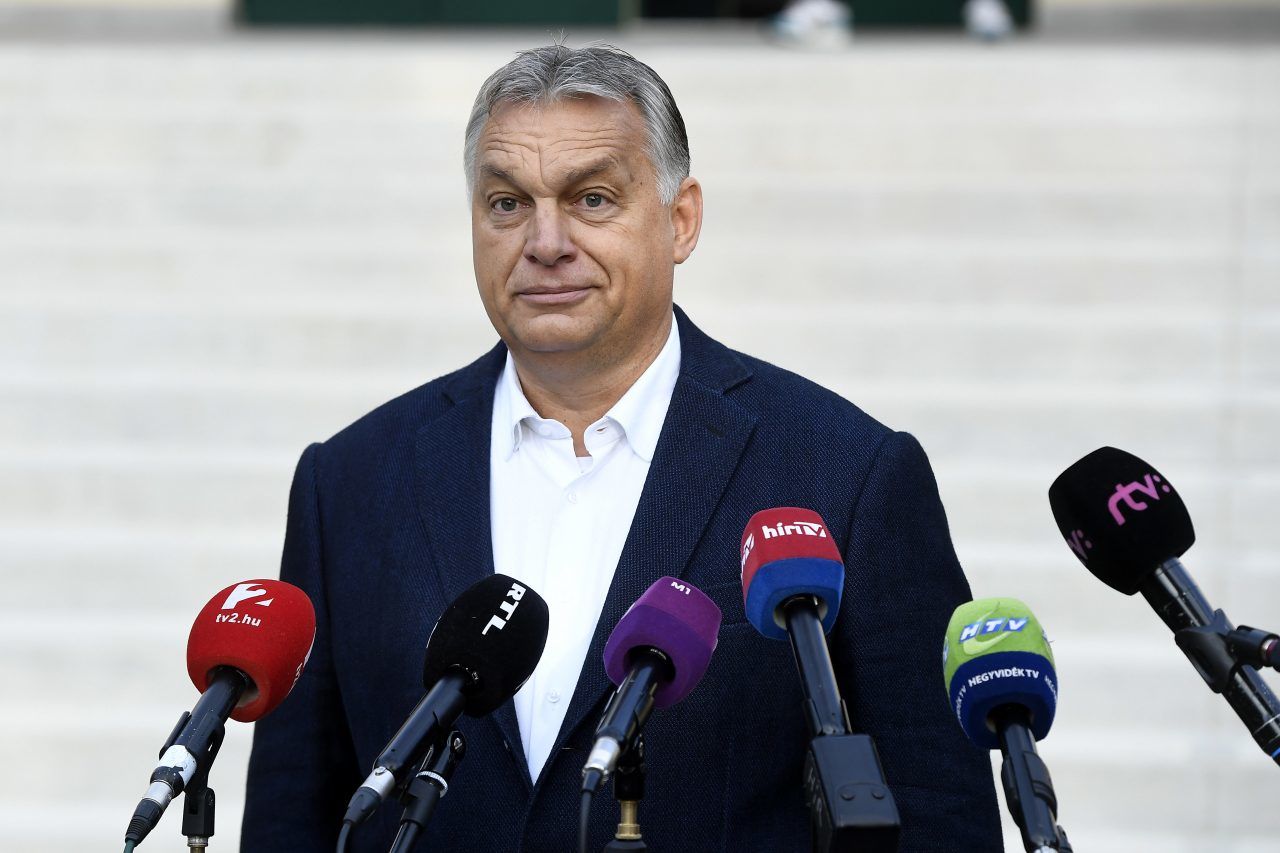 Hungarian Prime Minister Viktor Orban of the governing Fidesz party delivers a statement after he cast his ballot at the nationwide local elections in Budapest, Hungary, 13 October 2019.

On December 6, it was reported that a quote attributed to a book published by Semmelweis University had begun to circulate on Facebook. According to this, it read: "During a pandemic, DO NOT vaccinate, as it weakens the immune system and generates dangerous mutations!" In fact, none of the university's publications state that vaccination in a pandemic is unwise.

Anti-LGBTQ articles continued to appear in the pro-government media. Magyar Nemzet published a homophobic article on December 2, mixing up homosexuality with paedophilia, claiming that "LGBTQ lobbies are gaining ground in Hungary" – and that children are being targeted.

Pro-government media outlet Bors and other media on November 22 published photos of the far-right Jobbik party president Péter Jakab, leaving a house with his chief-of-staff. The images were accompanied by the caption: "President of Jobbik has lived for many months in a secret liaison with a woman in Budapest who is much younger than his wife." The claim has no known factual basis.

Finally, a case of online fraud and breach of citizens' personal data was recorded on December 1, when half-a-dozen files containing the MKKP party's documents were uploaded to a file-sharing site – including personal data on party members and candidates. The data was available for free for a month over the summer. However, the data breach only went public in December.

In North Macedonia, fake news and misinformation flow online

A range of violations occurred in North Macedonia's online environment between August 1, 2020, and August 31, 2021; more than half – 38 – were recorded by our monitors in the category, "Other manipulations in the digital environment". Fake news and cases of disinformation still dominate the digital sphere in North Macedonia.

In one case, recorded on November 21, a Facebook user claimed that "placebo" vaccines were being used in place of authentic COVID-19 vaccines, which had resulted in many healthcare workers leaving their jobs. The user in particular claimed that a Slovenian nurse had quit her job after realizing that some of the vaccines being given to citizens were in fact placebos.

On December 9, in another digital rights violation case, Twitter and Facebook users spread unverified claims about North Macedonia's currency, causing panic and discussions on social media. The National Bank later denied that the denar was fast losing its value, noting that the exchange rate had remained stable. In fact, the average exchange rate, 61.69 denars to 1 euro, has not changed much in the last year.

Romania proves digital breaches can be revealed after years pass

Romania's online environment recorded several cases of criminal investigations opening after alleged criminal incidents on the web.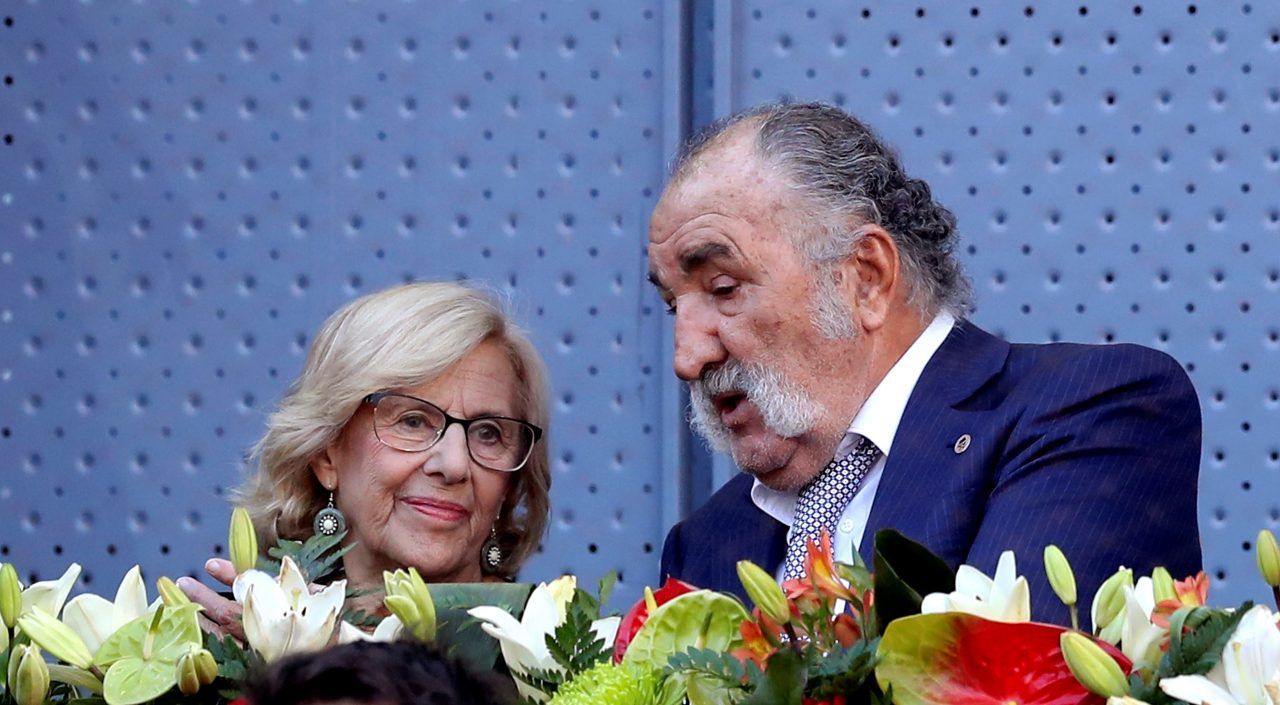 Madrid's Mayoress Manuela Carmena and Romanian former tennis player Ion Tiriac (R) at the Mutua Madrid Open tennis tournament in Madrid, Spain, 12 May 2019.

Also, a recent ruling of the European Court of Human Rights, in the case of Tiriac vs Romania, in which a journalist's right to report was infringed following publication of a disputed online article, showed that digital violations can be proved even after years have passed.

On November 30, the European Court of Human Rights rejected a complaint filed by the billionaire entrepreneur and former tennis player Ion Tiriac against a Romanian journalist who in 2010 wrote about his alleged debts to the Romanian state.

The Strasbourg court ruled that the journalist, who published the online article for Financiarul newspaper in 2010, titled: "Fifteen billionaires and their debts of a quarter of a billion lei to the state – Recipe for business success is guaranteed when business is financed from public funds or no taxes are paid", did not violate Țiriac's right to respect for his private and family life.

The journalist, speaking for the first time in public 11 years after the incident, declared that in future he would "take all the protection measures under contract, so that he does not remain alone in the world and fight with billionaires in court".

On November 25, police opened a criminal investigation against Instagram star Noemi Demeter for impersonating an officer or state employee. However, before her online fans, Demeter denied the existence of a criminal investigation and said a driver she had stopped in traffic was a friend of hers.

Another criminal investigation was opened on December 7 after a video was released in which two teenagers, aged 15 and 16, got into a police car and started dancing.