Wily PM's decision to nominate the loyal but energetic Katalin Novak as Hungary's next president has caught the opposition off-balance.
Prime Minister Viktor Orban set a shrewd trap for the opposition in nominating a female politician to become the country's next president.

Family Minister Katalin Novak is known as a hardworking, intelligent and ambitious woman, who is loyal to Orban but also represents a new generation of politicians.

The 45-year-old wife and mother has enjoyed a meteoric career rise, but her nomination as Hungary's next president took even insiders by surprise.

Hungarian presidents have a largely ceremonial role and are not elected by the people but by parliament, but the symbolism of having a female president is not to be underestimated.

This is especially so in a country when the ratio of women in politics is the second lowest in the EU and where the government was considered not long ago as an all-male club – and where Orban famously said once that politics is too tough for women.

But Orban is also aware of the zeitgeist and of the fresh wave of female politicians emerging globally. He has calculated that Hungary should be no exception – as long as he can control the tide.

Current President Janos Ader – a close ally of Orban and a ruling` Fidesz party founding member – will step down on May 10, after two terms, or ten years, in office, the maximum allowed by the constitution.

His successor – most probably Novak – will be elected by the current parliament, where his Fidesz party enjoys a two-thirds majority. It therefore seems safe to say that she will be the next president, even if the opposition wins the next legislative elections.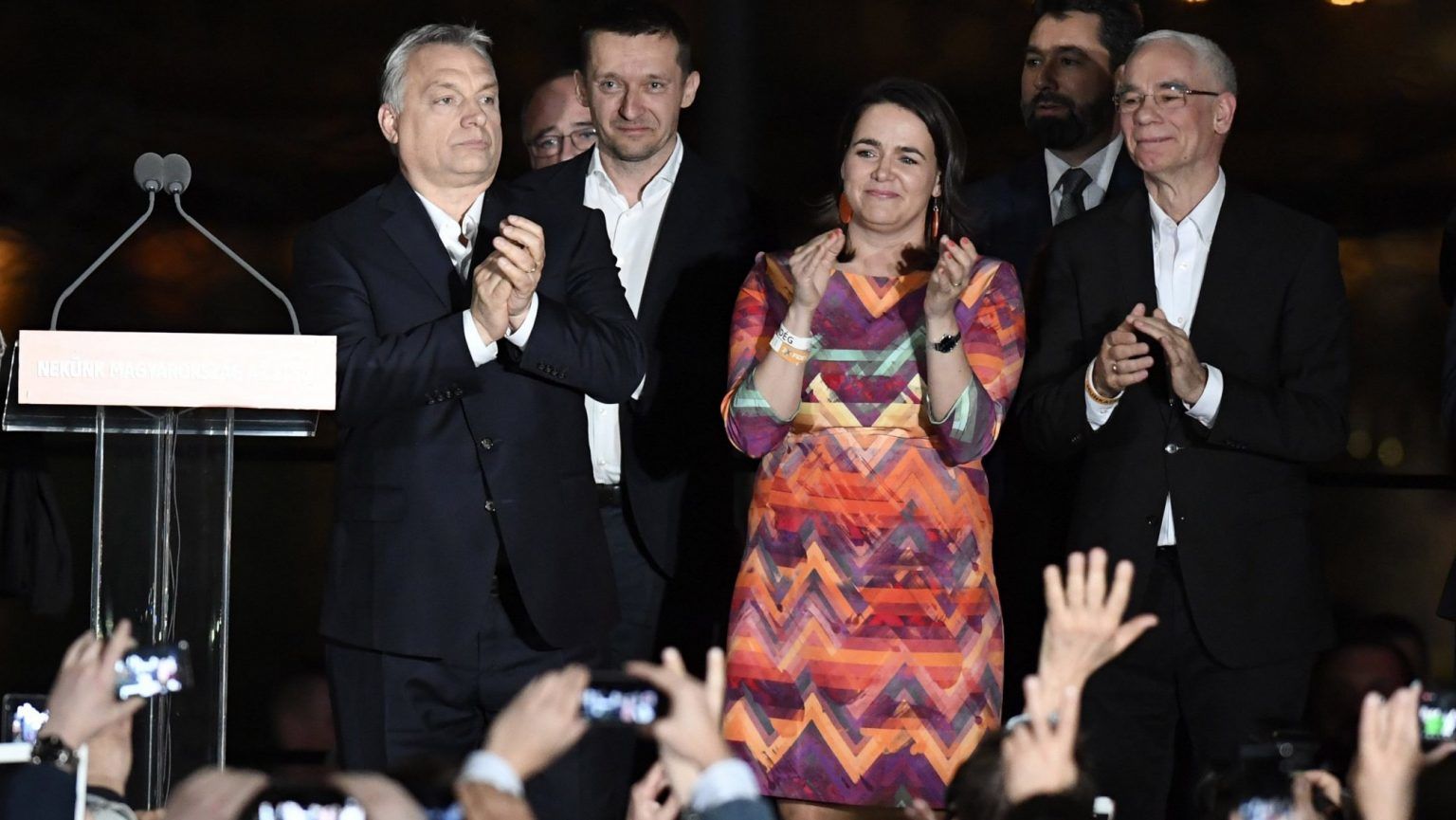 Hungarian Prime Minister and Chairman of Fidesz Party Viktor Orban (L), and State Secretary of the Hungarian Ministry of Human Resources Katalin Novak celebrate the 2018 election victory
A fresh wind, but with unquestioned loyalty

Born in 1977, Novak has degrees both in international relations and in law, speaks four languages and is the embodiment of the ideal woman for a socially conservative government: one who combines being a wife and mother with a successful career.

She has a strong international profile, having studied in the US and in France, and began her career in the Foreign Ministry, partly under the former Socialist-Liberal government.

Her real rise started in 2010, when she was hired as an advisor to the Foreign Ministry and later, as government commissioner for Francophone issues.

Later, she switched to the Ministry of Human Resources – a "mega-ministry" covering health, education and social affairs – as chief-of-staff to the minister. She became Secretary of State for Family and Youth Affairs in 2014 and was promoted to minister without portfolio, responsible for family affairs, in 2020.

According to a profile written by ATV.hu, Orban did not even know Novak personally in 2014, but selected her purely on the basis of her impressive CV as secretary of state. She has earned praise from her colleagues for clear ideas, reasoned arguments and talent for leadership.

She gradually gained visibility as Orban discovered family issues as one of his core campaign topics, besides migration. Critics say she fronts an anti-social family policy which mostly benefits richer families and does little for the poor. Other critics say it is easy to be popular when you represent generous government programs like tax cuts, cheap credits and various support programs. Novak argues that these work.

She now has a solid position in the governing party as one of the vice-presidents of Fidesz, and was placed fourth on the Fidesz list in the 2018 elections.

Nobody doubts that Novak will be a loyal ally to the government if elected president. However, she brings fresh air and occasionally contradicts some of the old guard of Fidesz, like the archconservative speaker of the parliament, Laszlo Kover.

When he declared that a woman's best accomplishment is to become a mother and grandmother, Novak retorted: "We won't tell anybody how to live and how many children she should have."

When a Catholic Bishop criticised in-vitro fertilisation as an ungodly way of having children, Novak threw her support behind the parents who had to rely on in-vitro methods.

But Novak will never challenge Orban or step out of the official narrative. She supported the government's conservative constitutional amendment last year, specifying that a father must be a man and that a mother is a woman.

In the international arena, she is also responsible for forging ties between Fidesz and some hardcore radical right-wing parties in Europe, since Fidesz was kicked out of the centre-right European People's Party in the European Parliament.

In this capacity, she also hosts the now annual demographic summit in Hungary, which brings together illiberal forces all over the continent. "The role of a president is a sweet burden and a huge responsibility," said told a TV interview on Wednesday, after announcing she would accept the nomination and step down as Minister of Family Affairs at the end of the 2021.

She added a feminist touch: "This is a message to the women and the men in this country, that every option is open for women," underlining that she would continue working for families and children in her new role.

The opposition has criticised the nomination. Opposition prime minister-candidate Peter Marki-Zay said Orban had sensed that society would welcome a female president, but Novak was not the right candidate.

"She will resist Orban even less than [current president] Ader," he said. The opposition says Novak is a loyal Fidesz member and a loyal supporter of Orban, whereas the president should be independent – which has, actually, never been the case in recent Hungarian history. Despite that, some have grown into the role – but others haven't.