Even some of Kyiv's closest partners in the alliance are hesitant.
An awkward dynamic was on full display as NATO foreign ministers met with their Ukrainian counterpart on Tuesday.

Arriving at NATO headquarters in Brussels on the day Finland formally became a member of the alliance, Ukrainian Foreign Minister Dmytro Kuleba offered congratulations and declared that "Ukraine is aiming at reaching the same goal, becoming a full member of NATO."

"It will be one of the topics of our conversations here in Brussels, of how can we move forward," he said.

Despite vast amounts of Western military assistance to Ukraine amid the war with Russia, NATO's direct support has been limited to nonlethal aid. And while Kyiv formally requested "accelerated accession" to join NATO in September last year, the alliance is divided on how to tackle that demand.

As Finland's flag was raised in front of its HQ, across the street a group of pro-Ukrainian protesters chanted: "Ukraine in NATO!"

And while Kuleba was more diplomatic, he conveyed a similar message.

"While we appreciate the practical support we receive from the alliance," the Ukrainian foreign minister said, "there is no better strategic solution to ensuring strategic security in the Euro-Atlantic region than the membership of Ukraine in the alliance."

The delicate issue has fueled debate. While there is consensus within the alliance that Ukraine cannot join NATO immediately, the discussion is ongoing over which political signals and concrete steps the alliance could offer Kyiv in the meantime.

"There are those who would say: Maybe nothing can happen because we need to concentrate just on the fight itself," said Lithuanian Foreign Minister Gabrielius Landsbergis, referring to the grinding artillery battles playing out largely along Ukraine's eastern front.

"But I think that Ukrainian people deserve to hear what we think," he told POLITICO in an interview at NATO headquarters. "And we have to have an answer for them."

Assistance instead of membership

Ukraine's NATO aspirations are among the thorniest issues facing NATO allies.

On Tuesday, ministers formally convened in a NATO-Ukraine Commission format — a symbolic move acknowledging Kyiv's aspirations for a closer relationship. Hungary, which has long blocked the body from meeting, grudgingly attended the session but vowed to continue opposing Ukrainian integration.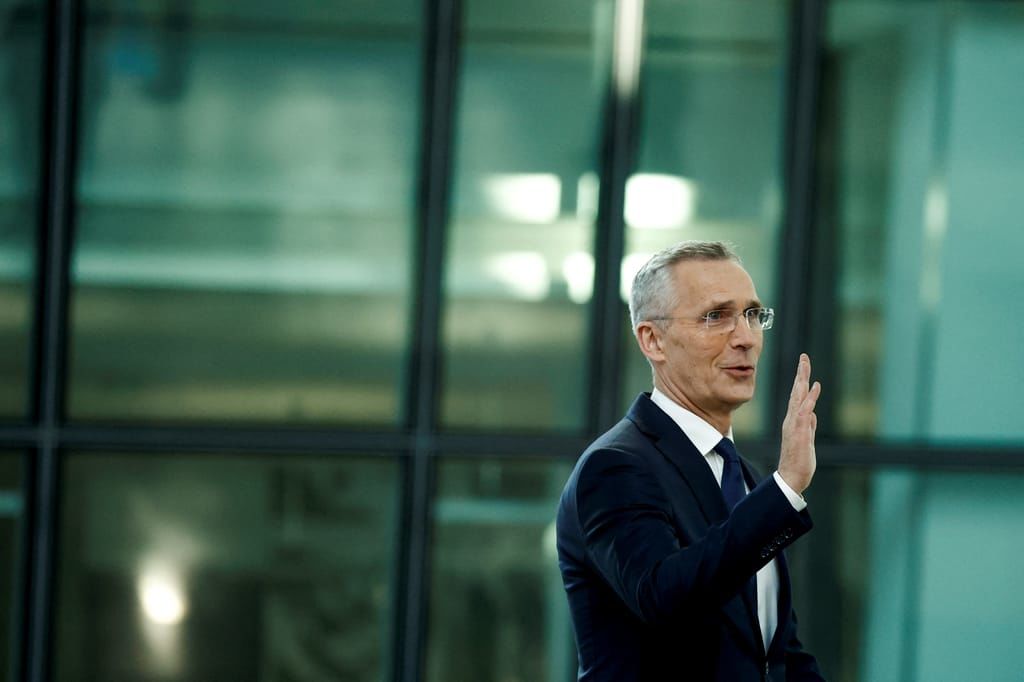 NATO Secretary-General Jens Stoltenberg has advocated for greater NATO support to Ukraine

NATO pledged in 2008 that Ukraine would eventually join the alliance, but the process stalled. Fast forward to 2022, when Russia infamously launched a full-scale invasion of Ukraine.

In the current situation, numerous Western capitals argue that the priority now is helping Ukraine win the war — and that discussion of NATO's political relationship with Kyiv should wait.

A senior U.S. official, who spoke on condition of anonymity in order to discuss internal alliance dynamics, said that America stands by the alliance's 2008 decision: "But the focus at this point has to be on practical support, and how do we best sustain the security assistance."

Any broader post-conflict political relationship between NATO and Ukraine "is somewhat moot if we don't absolutely guarantee that we're able to sustain the security assistance," the official added.

But some allies — particularly along NATO's eastern flank — say the alliance needs to give Ukraine a credible gesture on moving closer now.

NATO Secretary-General Jens Stoltenberg has been advocating for boosting the alliance's longer-term investment in Ukraine — supporting reforms in the defense sector and helping the country's military transition to Western standards — while avoiding a concrete path or membership timeline for the time being.

Speaking after the ministers' session with Kuleba, the NATO chief told reporters that allies have stepped up their contributions to NATO's nonlethal fund for Ukraine.

"Building on this, we will develop a multi-year support initiative for Ukraine, to help ensure Ukraine's deterrence and defense, make the transition from Soviet-era equipment and doctrines to NATO standards, and increase interoperability with NATO," he said.

But Lithuania's Landsbergis said that only expanding NATO's nonlethal aid to Ukraine is "not sufficient."

"We need to show to Ukraine that their application is being taken seriously and they are making steps towards NATO, which at the end will end up with their full membership," he said.

"I don't," Landsbergis added, "see the future where Ukraine is not part of NATO."

The senior U.S. official acknowledged that there is a "spectrum of opinion" within the alliance on the issue — with some advocating "to give Ukraine a specific date," while others want to "evaluate as the situation evolves."

But, the official said, "I would always want it to be clear that it's within the construct of the framework of all allies having incredible levels of support for Ukraine."