A Nato official has said it is looking into reports but Russia has denied responsibility
Nato allies are investigating reports that Russian missiles have struck a village in Poland, killing two people.

The incident was initially reported on Tuesday evening by The Associated Press, which cited an unnamed US intelligence official as saying the blast was due to Russian missiles crossing into Poland.

At the same time Polish government spokesman Piotr Mueller said leaders were holding an emergency meeting due to a "crisis situation."

Polish media reported that two people died Tuesday afternoon after a projectile struck an area where grain was drying in Przewodów, a Polish village about 10km from the border with Ukraine.

Firefighters confirmed that two people died in an explosion in Przewodów.

"Firefighters are on the spot, it's not clear what has happened," said Lukasz Kucy, an officer on duty at a nearby firefighters' post.

Polish Radio ZET reported earlier that two stray missiles hit Przewodów on Tuesday, killing two people, without giving any more details.

Photographs of the incident appear to show a wrecked trailer and tractor lying beside a large crater.

The Pentagon initially said it was unable to corroborate the report and was investigating.

Foreign Secretary James Cleverly tweeted: "We are urgently looking into reports of missiles landing in Poland, and are in contact with our Polish friends and NATO allies."

The apparent missile strikes were described by Ukraine's President Volodymyr Zelensky as a significant escalation that demanded action.

Meanwhile, Russia was pounding cities across Ukraine with missiles on Tuesday, in attacks that Kyiv said were the heaviest wave of missile strikes in nearly nine months of war.

Russia's defence ministry denied reports that Russian missiles had hit Polish territory, describing them as "a deliberate provocation aimed at escalating the situation".
It added in a statement: "No strikes on targets near the Ukrainian-Polish state border were made by Russian means of destruction."
A former director of planning at Nato told Sky News that an attack on an alliance member could "trigger article five" and call all other members to help in its defence.
But Fabrice Pothier stressed it was too early to say whether what happened in Poland was an "intended attack" or whether it was the "misfiring of a missile".
A spokesman for Hungary's Prime Minister
Viktor Orban
confirmed he had convened an emergency meeting of his defence council.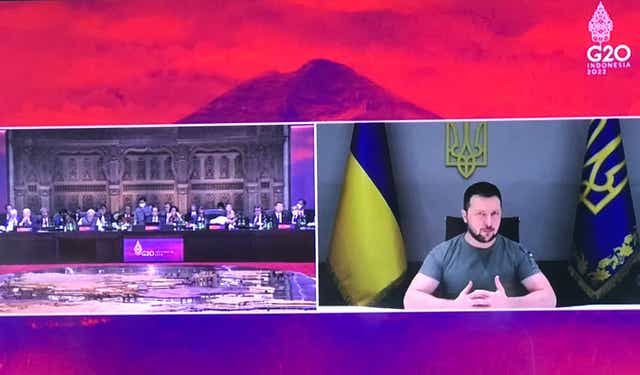 Ukraine's President Volodymyr Zelensky addressing the G20 summit in Bali
Artis Pabriks, Latvia's defence minister and deputy prime minister, said: "My condolences to our Polish brothers in arms. Criminal Russian regime fired missiles which target not only Ukrainian civilians but also landed on Nato territory in Poland.
"Latvia fully stands with Polish friends and condemns this crime."
And a spokesperson for Estonia's foreign ministry said: "Latest news from Poland is most concerning. We are consulting closely with Poland and other Allies. Estonia is ready to defend every inch of NATO territory. We're in full solidarity with our close ally Poland."
The incident came after Mr Putin's forces rained missiles on Ukraine following Ukrainian President Volodymyr Zelensky's speech to the G20 summit in Bali on Tuesday and Russia's humiliating withdrawal from Kherson last week.
Missiles hit cities including the capital Kyiv, Lviv and Rivne in the west, Kharkiv in the northeast, Kryvyi Rih and Poltava in the centre.
Odesa and Mikolayiv in the south and Zhytomyr in the north were also struck by missiles.