An explosive year lies ahead as the last time these policies were tried there were months of industrial unrest and protests.
Emmanuel Macron is clearly either very brave or very foolhardy.

What is beyond doubt, though, is that the French president is not lacking in self-confidence.

Those are the conclusions that can be drawn after Mr Macron unveiled a policy reform that, the last time he tried it, led to street protests in France and months of industrial unrest.

The president is trying - as many of his predecessors have over the last three decades - to get the French to work for longer.

Mr Macron wants to raise the age at which French workers are entitled to collect a pension from the state from the present 62. He has not yet made clear whether it would be to 64 or to 65 but the former looks more likely.

Raising the state retirement age to 64 would still mean a retirement regime more generous than the UK and many other European countries.

Either, though, would be deeply offensive to trade unions.


Macron's opponents
Laurent Berger, head of CFDT, the largest union in France, said last week of the proposals: "If the retirement age is pushed back to 65 or 64, the CFDT will do what we've said we'll do, we will resist this reform by calling on workers to mobilise."
The proposal, seen as the biggest plank in Mr Macron's plan to modernise the French economy, is likely, then, to be explosive.
Ranged against the president will not just be the unions. Marine Le Pen, the influential far right politician Mr Macron beat to secure his second term in the Elysee Palace, is fiercely opposed to raising the retirement age. She has described the proposals as "terribly unfair" and particularly for younger workers.
Other opposition parties will also be against the proposals.
The only party that will potentially be lining up alongside Mr Macron's Renaissance Party to support the measures will be Les Republicains, the centre-right party of former presidents such as Jacques Chirac and Nicolas Sarkozy, although the terms of its support include making the retirement age 65 and not 64 and raising the state pension, when the measure goes through, from a minimum €900 per month to €1,200.
His rationale
Mr Macron's justification for raising the retirement age is that France cannot afford to allow so many workers to retire at so young an age.
Like other European countries, he is aware of the pressures caused by an ageing population and a slowing birth rate, which means that, in years to come, France will be relying on a shrinking number of people of working age to pay the pensions of a growing number of retirees.
Other alternatives he considered, but decided not to go ahead with, include putting up taxes, increasing government borrowing or cutting pensions.
He told the French public in his new year address: "We must work longer. The aim of the reform is to strengthen the pension system. If we do nothing it will be threatened, as we will rely on debt to finance it."
France's young workforce
Doing nothing was certainly not an option.
France already has a significantly lower proportion of older workers still active in its workforce than other advanced economies.
As of 2021, just 59.7% of 55 to 64-year olds in France were still in employment, compared with 79.1% in Japan, 74.1% in Germany, 73.8% in the Netherlands, 67.1% in the UK, 64.7% in the United States and 64.4% in Spain.
The current retirement age in France, of 62, is also considerably earlier than elsewhere in Europe.
European retirement ages
It is currently 66 in Germany, rising to 67 in 2031, while in the UK it is also currently 66 but will rise to 67 between 2026 and 2028. Spain, similarly, will see its retirement age rise from the present 66 to 67 by 2027. Other countries across the EU, including the Czech Republic and Italy, are also in the process of raising their state retirement ages.
Germany, which is already grappling with shortages of key worker groups such as nurses, is even mulling a further increase in the retirement age. Even Italy, one of the few European countries with a lower labour force participation rate among older workers than even France, is in the process of doing so.
What is clear then is that, even if Mr Macron gets his way, France will still have a more generous arrangement than most of its European peers.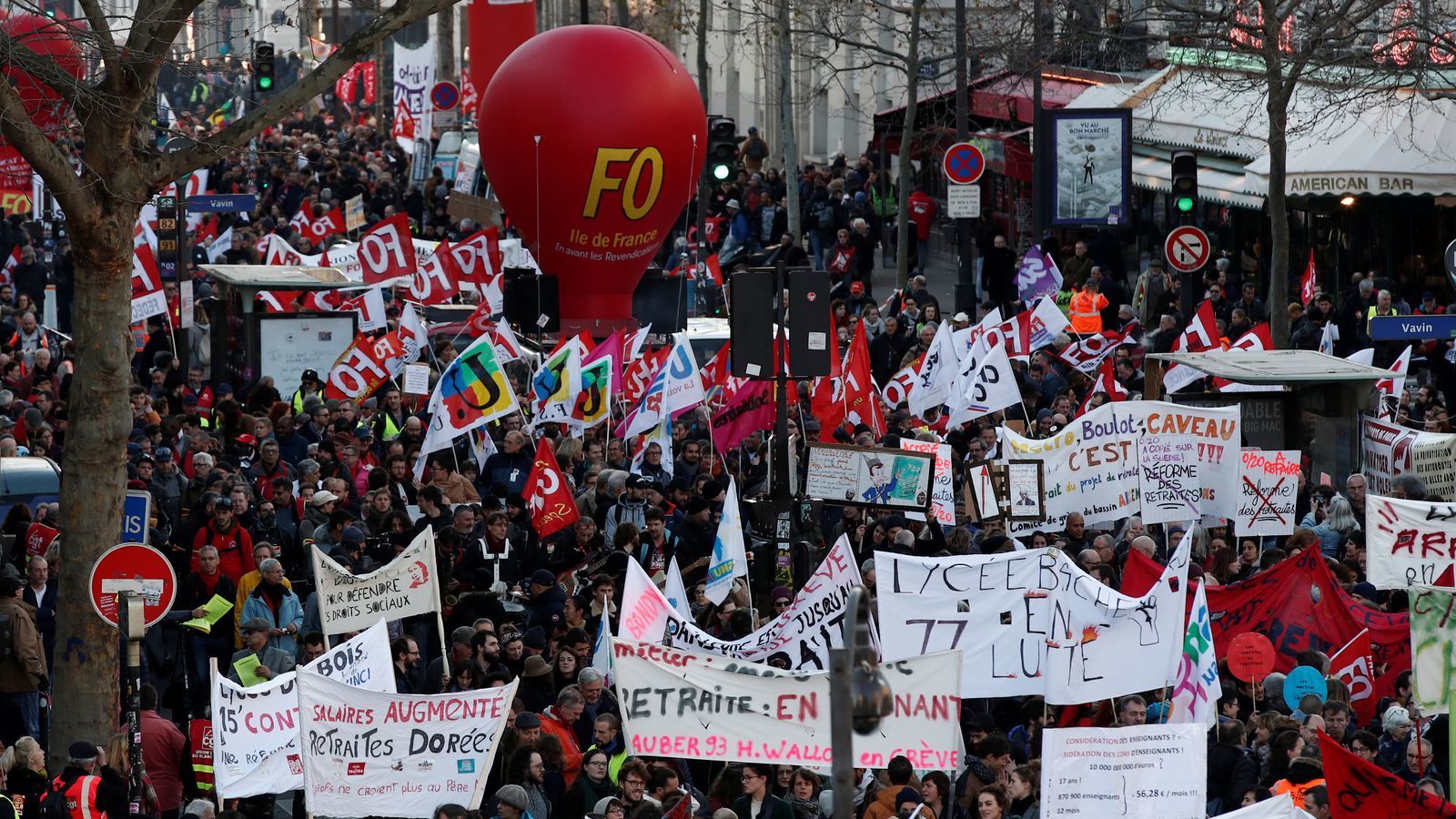 Previous attempts

If the president does succeed without too much disruption, he will have done so where numerous of his predecessors either failed, or had to water down their proposals in the face of bitter opposition.

In 1995, Mr Chirac and his then-prime minister, Alain Juppe, were forced to back down when they sought to rein in the generous pension benefits paid to civil servants in demonstrations that left much of France paralysed by strikes and demonstrations.

There were similar demonstrations, involving more than one million protestors, when in 2003 another prime minister, Jean-Pierre Raffarin, sought to make public sector employees work for 40 years to qualify for a pension, as was the case with their peers in the private sector. That measure actually made it onto the statute book despite weeks of strikes.

Mr Sarkozy was more successful when, in 2010, he sought to raise the retirement age from 60 to 62, although again it only came after weeks of sapping strikes and demonstrations involving millions of people.

But Mr Macron himself had to back down when, in 2020, he sought to create a single universal state retirement plan to replace the 42 individual plans then in place and introduce a points system that linked the pension paid to the contributions a worker had made during their career.

The proposals led to the longest strike in French history and were abandoned at the outset of the COVID pandemic.
Now he is having another go.
Solving skills shortages

The prize, though, makes it worth a try. France, like other European countries including the UK, is grappling with shortages of skilled workers due, in no small part, to people taking early retirement.

So anything he can do to get people to stay longer in the workforce will have economic benefits as well as saving taxpayers money.

Mr Macron will also have noted the rewards reaped by other European countries that have been prepared to engage in bold welfare reforms.


A German success story

Among the most successful in this regard has been Germany.

It has enjoyed a sharp reduction in unemployment since its former chancellor, Gerhard Schroder, pushed through a series of reforms to the country's welfare state from 2003 to 2004.

The flagship changes, called 'Hartz IV' after the former Volkswagen personnel director who came up with them, dramatically cut unemployment benefits (previously, unbelievably, paid at a rate of 60% of an unemployed person's pay in their last job) and for the first time obliged unemployed people to accept offers of work.

Germany was rewarded by a drop in its jobless rate from 12.6% in 2005 to just 3% as of November last year.

It is understandable, then, why Mr Macron has decided to nail so much of his reputation and personal political capital to pensions reform.

Be in no doubt, though, it is going to be explosive. France can expect a year of industrial unrest.