Twelve candidates are running for the French presidency, as incumbent Emmanuel Macron stakes his claim for a second term.
Voters go to the polls in the first round on Sunday and, assuming no-one wins a majority, the top two candidates will take part in a run-off on 24 April.

The winner, to be chosen from four women and eight men, will have the power to shape France and its key role in Europe for the next five years. Although the race has been overshadowed by Russia's war in Ukraine, for most voters, the main issue is the cost of living.


When he became France's youngest ever president in 2017, it sealed a meteoric rise that came less than a year after he launched a centrist political movement called La République En Marche! to challenge the traditional parties.

Five years on, aged 44, he continues to dominate French politics, but faces a strong challenge from Marine Le Pen, the far-right candidate he easily defeated in the second-round run-off in 2017.

He entered the Élysée an unknown quantity, a former economy minister who had never run for elected office before. A protégé of Socialist President François Hollande, he swept away old political loyalties and, to many voters, that set him apart from the ruling class.

He has had to navigate choppy political waters to push through controversial reforms.

He made it easier for companies to fire workers, cut taxes and introduced tough security laws to tackle terrorism. But he was forced to scrap a proposed fuel tax in 2018 after weeks of unrest stoked by yellow-vest protesters, known as gilets jaunes.

Other reforms, including a promise to bring the jobless rate down from more than 10% to 7% by 2022, were hit by the Covid pandemic, although unemployment is currently down to 7.4%.

He is now proposing full employment within five years, cutting taxes by €15bn (£12.5bn) a year for households and businesses, and paying for his programme by gradually raising the retirement age from 62 to 65.

Increasing the pension age is unpopular with voters already facing a cost of living crunch. His opponents have also accused him of relying on expensive advice from US consultancy firm McKinsey.

He has had to rethink a controversial plan to make a back-to-work benefit for the unemployed called RSA conditional on 15-20 hours of work a week. Mr Macron also wants to invest in the armed forces, doubling France's reserve force.


What are his chances?

Mr Macron has long been favourite to win the vote, but opinion polls suggest his main rival, Marine Le Pen, has narrowed his lead and would give him a strong challenge in the 24 April run-off. His poll ratings were initially boosted by his diplomatic efforts during Russia's war in Ukraine, but voters are more exercised by increasing bills.


Marine Le Pen was runner-up to Emmanuel Macron's in 2017 and this time, she is once again his closest rival.

Her family has been synonymous with the far right in France for decades. She can no longer claim the hard-right vote to herself because of fierce rival Eric Zemmour. Although some of her team have defected to his camp, including her own niece, his more extreme views on Islam and immigration have made her approach appear more moderate.

A political player in France for years, Marine Le Pen became a Euro MP before acting on her presidential ambitions. After her presidential defeat in 2017, she rebranded her National Front party as Rassemblement National, or National Rally.

She has since crafted a consistent anti-immigration, anti-EU message that has resonated with disaffected voters.

She has in the past expressed her admiration for Russia's Vladimir Putin and relied on a Russian bank loan for her 2017 presidential campaign. She condemns his invasion of Ukraine, while warning of the risk of sanctions to the French economy.

Now 53, she has promised to halt abuse of the right to asylum, with a referendum on restricting immigration. And she wants to ban the Islamic hijab being worn in public areas. She also seeks to turn the European Union into an alliance of nations unchallenged by EU laws.

Marine Le Pen wants to waive income tax for those under 30 and exempt companies from tax contributions if they raise minimum wages by 10% for many of their staff.


What are her chances?

This is her third bid for the presidency (she came third in the 2012 election). If she makes it to the run-off, as the polls suggest, Marine Le Pen could give Emmanuel Macron a real fight for the presidency.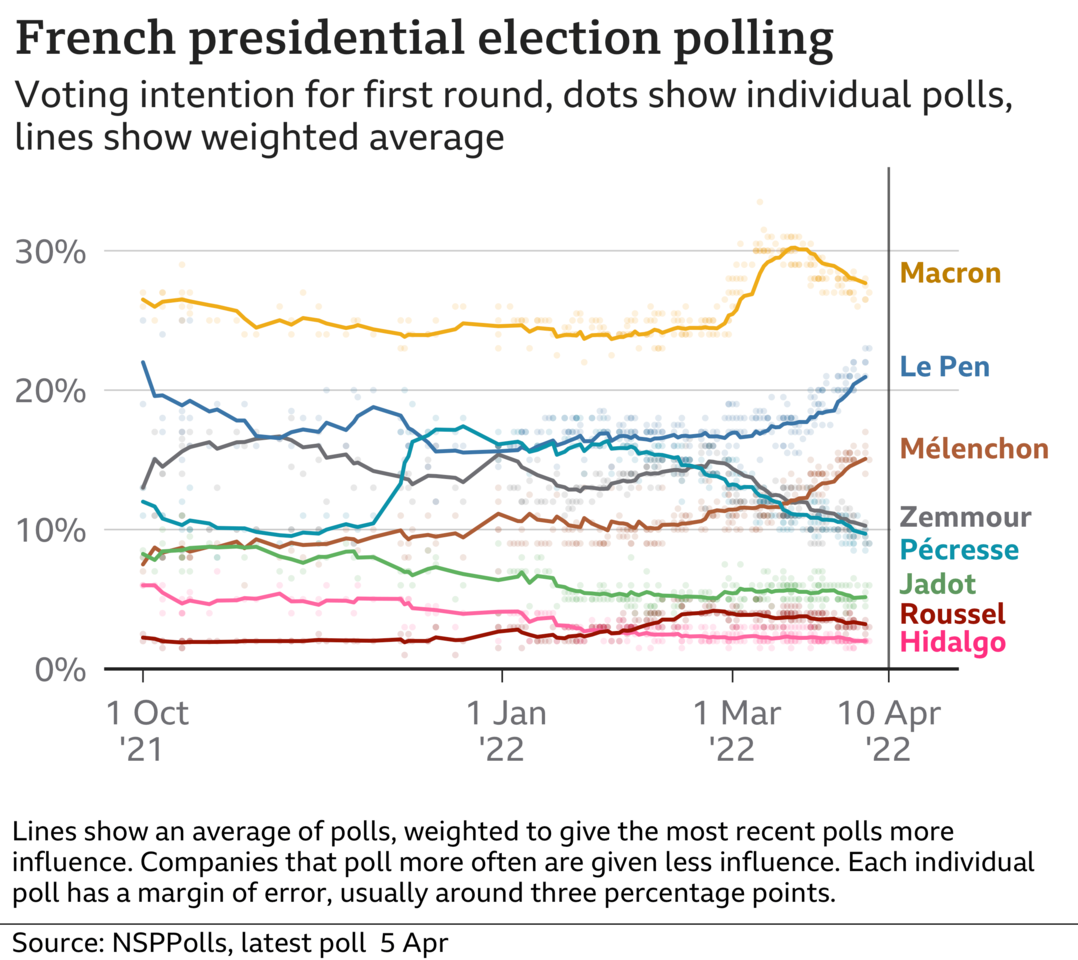 The strongest candidate on the left is veteran agitator Jean-Luc Mélenchon, a staunch critic of Emmanuel Macron's economic policies and a prominent supporter of the yellow-vest protests.

Though few believe he could go all the way to the presidency, he has led a strong campaign and sees himself as a "shrewd tortoise", overtaking some of the hares in the race. His outdoor rallies can attract upwards of 20,000 supporters.

Mr Mélenchon dropped a career in teaching and journalism for left-wing politics in the 1970s. He served briefly as junior education minister under Socialist Prime Minister Lionel Jospin but - by the early 2000s - became disillusioned with the Socialist party's rightward drift.

After setting up a new left-wing party, he became a Euro MP and is standing for the presidency for a third time under the banner of La France Insoumise - France Unbowed. In 2017, he attracted 19.6% of the vote.

His programme is one of high spending and sweeping constitutional reform, to revive democratic life under a Sixth French Republic.

He promises to lower the retirement by two years to 60, while Mr Macron aims to raise it, and he wants to raise the minimum wage, known as the Smic, by 10% to €1,400 (£1,175) a month.

His critics have accused him of being too lenient on President Putin - he wants France to be non-aligned and out of Nato.


What are his chances?

He is by far the strongest among an array of left-wing candidates, but his soft stance on the war in Ukraine could turn potential voters off.


"I am ready to be the first woman president of the Republic," said Valérie Pécresse on declaring her candidacy in July last year.

When France's right-wing Les Républicains (Republicans) chose her to be their first-ever female presidential candidate, she climbed quickly in the polls, but her star has fallen since amid accusations of a shambolic campaign and defections in her party.

Since 2015, she has served as the first female leader of the Île-de-France regional council, which covers Paris. She has described herself as "one-third Margaret Thatcher and two-thirds Angela Merkel".

A speaker of four languages, including Russian, she entered politics as part of President Jacques Chirac's team, but made her political reputation as a higher education minister from 2007-11 under Nicolas Sarkozy. His refusal to back her campaign has also harmed her chances.

Ms Pécresse spearheaded reforms to higher education that were met with a wave of strikes.

Considered pro-European and moderate, she has staked out some of Mr Macron's centrist territory, while taking a hard line on typically right-wing issues such as immigration, integration and Islam. She has been criticised for appearing to embrace an anti-Muslim conspiracy theory.

Her campaign has accused the Macron camp of copying her policies on raising the retirement age and requiring people on income support to do 15 hours' training or work every week. Her main response to help voters fight inflation is a 10% increase in monthly salaries under €2,800, paid for by savings made through reforms as well as cuts in pension contributions.


What are her chances?

Initially seen as the main obstacle to a Macron victory, Valérie Pécresse then struggled to find her voice and is fighting for fourth place in the polls. A speech to supporters early in the campaign was mocked as wooden and she has little hope of reaching the run-off.


A journalist, author and TV commentator with no election experience and a conviction for inciting racial hatred would not typically be considered presidential material in French politics.

But far-right challenger Éric Zemmour, 63, has built a career on positioning himself against what he calls a "politically correct consensus" and now offers a "reconquest" - Reconquête - of France.

He burst on to the political scene in 2021 during a national tour to promote a book lamenting the perceived decline of France, which he mostly blames on immigration and Islam.

Initially he surged in the polls, offering a nationalism seen as tougher than Marine Le Pen's. But he has since fallen back as his proposals have hardened.

His plan for a ministry of re-immigration, to deport 100,000 immigrants each year, particularly to Algeria, Morocco and Tunisia, has been condemned by Ms Le Pen as deeply unfair and "anti-republican".

Mr Zemmour courted controversy for minimising the guilt of Philippe Pétain, the head of France's collaborationist government, in the Nazi deportations of Jews in World War Two. And his record on Russia is embarrassing too: back in 2018 he said he was "dreaming of having a French Putin".

He called for a ban on first names that he saw as un-French, telling one woman on live TV her parents had no right to call her Zina. He also wants dual-national repeat offenders to be stripped of French citizenship, as well as a ban on wearing the hijab in public.

He has modelled his campaign on that of former US President Donald Trump and railed against political elites. He also has the dubious honour of being the first candidate in the race to get hit on the head by an egg.


What are his chances?

He has little chance of reaching the second round, as far-right voters see Marine Le Pen as a more viable candidate.
Other candidates on the left

A former Greenpeace militant and an MEP since 2009, Yannick Jadot was picked by the Greens via an online primary.

He has accused Emmanuel Macron of presiding over five years of climate denial and wants France to ditch nuclear power within 20 years. He also wants solar panels installed on most buildings. Mr Macron has just backed plans for another six nuclear reactors to be built.

As well as pushing for a big change in income tax, with additional levels for higher earners, Mr Jadot, 54, would like to see a €1,500 minimum wage, a citizen's income guaranteed for all over-18s and a €400 (£335) handout for families hit hardest by inflation.

He has been vying with ex-Paris mayor Anne Hidalgo to be the champion of the mainstream left and could influence how leftist supporters vote in the presidential election.

Fabien Roussel: The first Communist candidate for 15 years, his charismatic approach has had some success. Mr Roussel, 52, has called for France's big banks to be nationalised and for pay rises for public servants including nurses and teachers. He wants investment in renewable and nuclear energy and minimum wages to rise to €1,500 a month.

Anne Hidalgo: Chosen as candidate for the Socialists, her struggle in getting voter support reflects the deep decline of a party that ran the country only five years ago, under President François Hollande. She wants a big rise in the minimum wage, higher salaries for teachers and 15,000 new doctors.

Nathalie Arthaud: A schoolteacher from outside Paris, she is now challenging for the presidency for a third time for the far-left Lutte Ouvrière (Workers' struggle) party, but has not yet attracted more than 1% of the vote. While opposed to Russia's "monstrous" invasion of Ukraine, she has little time for Nato either.

Philippe Poutou: The former car factory worker is standing for the New Anti-Capitalist party and advocates redistribution of wealth.

Other candidates:

Jean Lassalle: Closer to the centre of French politics than other candidates but by no means a moderate, he came from a family of shepherds in the Pyrenees mountains to become France's youngest mayor in 1977.

He once went on hunger strike to protest against a factory closure and later walked more than 6,000km (3,700 miles) around France to meet the people. As leader of Résistons! (Resist), he has championed France's yellow-vest anti-Macron protesters by wearing a gilet jaune in parliament and he has called for citizens' initiative referendums, renegotiating the EU treaties and pulling out of Nato.

Nicolas Dupont-Aignan: A libertarian who left the mainstream right to found the Debout la France (France Arise) party, he has put freedom for France at the heart of his campaign - his third run for the presidency.

He sees Emmanuel Macron as a "public danger" to France, opposes the EU and campaigned against Covid restrictions. He also wants wages to be increased and linked to inflation. He has in the past backed alliance with Russia and objects to sending weapons to Ukraine.