Aurélien Pradié has exploded onto the centre stage of French politics after single-handedly scuppering a government vote on pension reforms.
In the space of just a few weeks, the MP has emerged as one of the biggest stars on the national political scene, helped by his youth - he is just 37 years old - his good looks, and his oratory skills. Now, he tells me, he is not ruling out a run for the presidency.

I met Mr Pradié at the biennial county fair in the village of Bétaille, where the centre-right politician grew up.

The département of Lot in south-west France is one of the country's most rural. Some 15% of the working population here are employed in the agriculture sector.

Despite the cold, relentless rain and muddy conditions, Mr Pradié spent several hours shaking hands, kissing women on the cheek, and tasting locally grown food at the stands. He has rock star status here.

Last month he took a wrecking ball to President Emmanuel Macron's retirement reform bill by refusing to back his own Les Républicains party's support for it, despite winning major concessions from the government.

Many of the MPs from his party followed him. It left the government's centrist Renaissance party without the parliamentary majority it thought it had to pass the bill.
The retirement reforms have sparked huge and often violent protests across France

Instead, the government used highly controversial constitutional powers to force the bill through without a parliamentary vote - a move that sparked weeks of often violent protests.

Mr Pradié defied his party leadership again shortly afterwards, choosing to censure the government in a no-confidence vote which would have forced it to resign and scrap the retirement bill.

The government survived by just nine votes. Mr Pradié was stripped of his position as deputy leader of his party for his act of rebellion. He said it's not the job of his party to become a crutch for President Macron and his Renaissance party, which doesn't have an absolute majority in parliament.

"I believe in destiny in politics," he said. "I wasn't breast fed with the idea I would one day become president, but I want a situation where the French don't have to continuously choose between candidates that they don't want."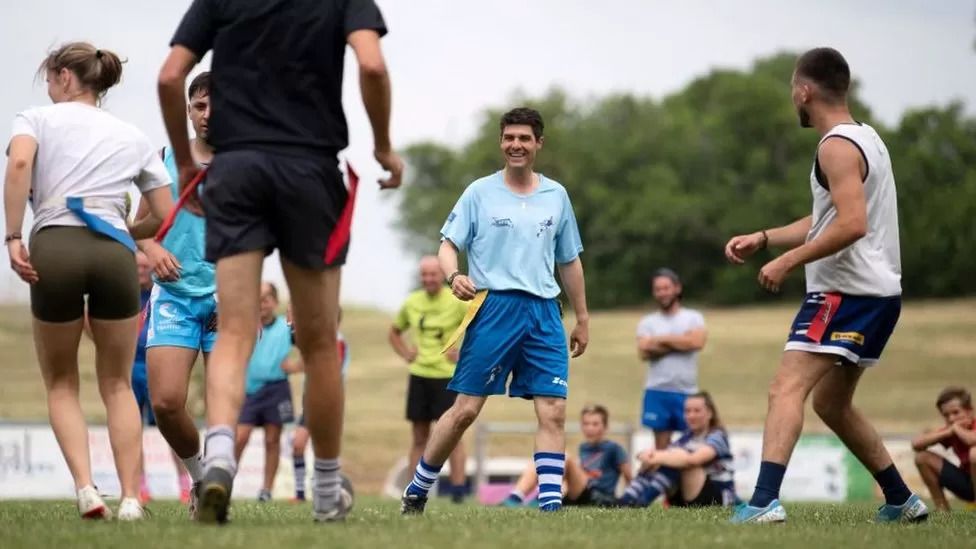 Mr Pradié (centre) - seen here joining a rugby game on the campaign trail - was easily re-elected as an MP last year

The millennial politician's rapid political rise was done the old fashioned way - door to door, village by village. In his first election campaign he rode a moped as he couldn't afford a car. He became an MP at the age of just 31 in a socialist stronghold and was easily re-elected last year.

He told me that coming to events like this village fair was essential for getting to know what people are thinking.

"This isn't about folklore, this is where I pick up things about people's everyday lives," he said.

"Having roots in politics is fundamental and what has poisoned political life recently is the disconnection between politicians and the population. Here people don't lie to you - they tell you what they think and it's not always easy because they sometimes shout at me."

His focus, however, is expanding beyond the local. Since 2014 Mr Pradié has gone from village mayor to regional councillor to MP.

Right now he doesn't speak English, and he knows that as his national and international profile soars that could be a problem. He confided he will start taking intensive English classes in a few weeks' time.
Philippe Labarthe (right) says he likes that Mr Pradié sticks to his political convictions

As we wandered among the food stands and exhibitors, the main subject was the cost of living crisis and the impact on farmers. His blunt way of talking and doing business went down well here.

"When it comes to the retirement reform I think [Mr Pradié] did the right thing, and he made the government fold," honey producer Philippe Labarthe said. "At least he has convictions and sticks to them. Even if I disagree with him I have to recognise that quality."

Benoît Jouclar, who runs an agricultural museum, said the MP has a vital role to play locally and nationally. "He is very important for our region, he promotes us and we need young combative people like him in government. He tells the truth and we support him entirely."

One of the foremost analysts of French southern politics, Laurent Dubois, said Mr Pradié has a window of opportunity to rise further - but it won't last long.

"He is something new on the scene, but can he last in the long term with something new to offer and prove that he can handle his opponents?" he said.

"His big advantage is his freshness, [but] his biggest challenge is going the distance - especially as what is new in politics often ends up out of date."

Mr Pradié says he wants to create a new revolution from the right, but he is vague on specifics. "I think one of the big mistakes of the French right is that in recent years it's been abandoned by the French people," he said.

"It no longer represents the workers, the French middle class who work hard, who struggle to make ends meet and this retirement reform punishes those who work the hardest. For a while now the right has only talked to a more privileged bourgeois part of society."

There are just two MPs representing Lot. The other is Huguette Tiegna, from President Macron's ruling centrist Renaissance party. She says her opponent is simply an opportunist who seized the retirement reform as a way to climb the political ladder.

"I deal with key issues in depth. Pradié likes to talk," she said.

"It's a real problem because he's thinking just about himself, you get the impression it's all about him and his career."

Not true, he told me.

"Since I am not from the establishment and have different convictions from them I am accused of being an opportunist who wants to steal the limelight, which is ridiculous when you consider the criticism I have received. If I wanted an easy life I would have taken another approach.

"The right can't keep pretending everything is all right and sweep the dust under the carpet - if we want to rebuild then there has to be an electroshock," he said.

"Sometimes collateral damage is the price to pay to rebuild a home."