Irish passport holders who live in and were vaccinated in Northern Ireland can now access the EU Digital Covid Certificate.
The vaccine "passport", which allows international travel, came into effect in the Republic of Ireland in July.

Most Irish passport holders in Northern Ireland were not able to access the certificate because they were vaccinated outside of the Republic.

People in Northern Ireland can now apply for the certificate online.

During the first phase of the scheme, the portal will accept applications from passport-holding Irish citizens vaccinated in Northern Ireland who hold a Covid vaccination certificate with a QR code issued by the Department of Health.

However, an Irish government minister has conceded there have been problems for some people from Northern Ireland accessing the certificate.

Speaking in the Seanad (upper house of Irish parliament) Mary Butler, the junior health minister with responsibility for mental health and older people, said that "obviously with anything new it just takes a little bit to bed down but this is a really welcome development".

Ms Butler said there were also "impediments" that were ironed out for people in the Republic of Ireland when the certificate was first made available in July.

She said that people in Northern Ireland seeking the EU certificate had to apply to the Irish government's portal with their Irish passport details and Covid certificate with a QR code issued by Northern Ireland's Department of Health before giving their consent to their data being used.

The issue was raised in the chamber by Sinn Féin Senator Niall O'Donnghaile and Fine Gael Senator Emer Currie, both of whom suggested a public information campaign.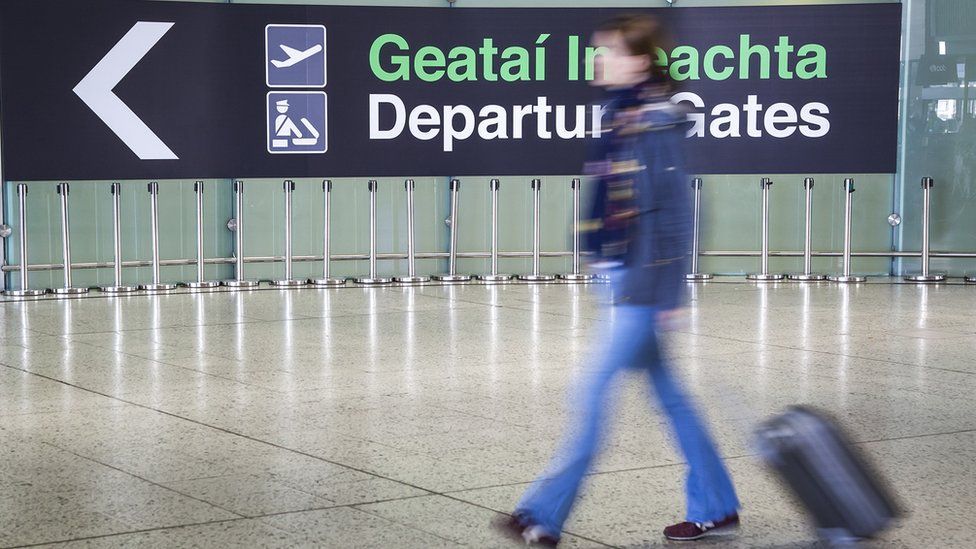 "This is about EU citizens being entitled to EU benefits," Ms Currie said.

Mr O'Donnghaile also suggested a helpline.

He said some people north of the border seem to be mistakenly applying through the Republic of Ireland's Covid tracker app for the EU cert.

The Irish Health Minister, Stephen Donnelly, said he was "delighted" to expand the service.

Irish Minister of State for Public Procurement and eGovernment, Ossian Smyth, said the certificate had been "key to opening up indoor hospitality within the country and enabled international travel outside of Ireland".


What's the EU Digital Covid Certificate?

The EU Digital Covid Certificate makes journeys within the EU easier for people who are fully vaccinated against Covid-19.

It is available in all 27 member nations - plus Switzerland, Iceland, Norway and Liechtenstein.

EU citizens (and those of Switzerland, Iceland, Norway and Liechtenstein), can download it or obtain a paper copy - at no cost. It is also available to non-EU nationals living legally in member states who have the right to travel to other member states.

Because the UK is no longer in the EU, the certificate is not available to most Britons.

EU nationals vaccinated in the UK must check with their home countries to see if they are eligible.

Travellers will still need to carry a passport or other identification.

On 21 October, the Irish government will move into phase two of the scheme, which will accept applications from Irish citizens vaccinated in countries outside of the EU.

In phase two applicants will be required to hold:

* A valid Irish passport
* Proof of vaccination from the relevant issuing authority in the country of vaccination

Ireland's Department of Health said it was assessing vaccine certificates from other countries and that specific requirements for vaccination proof "will be published in line with the portal launch" in October.

Minister for Overseas Development Aid and Diaspora Colm Brophy said it was hoped this would bring "renewed hope to our diaspora who have endured long and painful separations from their families and friends".

"It is part of our commitment to the diaspora to address and remove barriers to them returning home," he added.

Those who meet the requirements can apply at via the Irish government's EU Covid certificate portal.